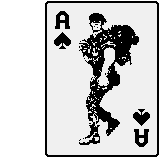 Ace Browning, Major
Historian
Civil Air Patrol
U.S. Air Force Auxiliary
alamrcn@hotmail.com
Copyright © 1996-2010
INCOUNTRY Productions
DISCLAIMER: This page was created and is maintained by a Civil Air Patrol member for informational and entertainment purposes only. It is NOT an endorsement by Civil Air Patrol of any service, program, object, product, or any other idea, nor does it necessarily reflect the official policy and opinions of the Civil Air Patrol, the United States Air Force, the United States Government, nor their respective officers or representatives. You actually read this crap?


I am asked quite often by units and individuals about the creation of Civil Air Patrol patches. This page will hopefully offer some helpful information to those seeking to design and manufacture a patch. Please feel free to e-mail me with any further questions, comments, or suggestions...

---
Rules and Regulations
Other than instruction for the wear of patches, National Headquarters currently has no requirements or guidelines on the design of patches for subordinate levels to follow.
However, guidelines or requirements may have been implemented at the Group or Wing level [example] for units under their command, and many units have self-imposed Air Force regulations [AFI84-105] during their patch design process.
The approving authority of a patch design is the respective Wing Commander, or a delegated staff officer or committee that represents the commander. The usual chain-of-command should always be adhered to when initiating the patch approval process.
---
Heraldry of an Emblem
An organizational emblem's heraldry is a description of its features and their significance. Objects and symbols depicted in an emblem have either literal or symbolic meanings, and must appropriately characterize the entire group for which the emblem is for. Everything in an emblem, even the colors, must have purpose.
An emblem's heraldry can be as simple as an itemized list of the its components and meanings, or a more formal and descriptive narration - called a Blazon. After an emblem is established, it is important that the heraldry of it be in writing, and the history of it (names, dates, etc) documented. Everyone who comes to bare a patch, should know its heraldry.
---
Size and Shape
A patch's size is figured by averaging the tallest point (top-to-bottom) and the widest point (side-to-side). A great size for any patch is from 2.75" to 3.75" in measurement. For example, the CAP Command patch is 3" in size. Consider duplicating the size of another patch worn at the same time, such as your wing's shoulder patch. Although patches closer to 4" in size look very nice, fitting them on smaller-size uniform pockets and flight suit shoulders could be an issue.
What is the best shape for a patch? There isn't one really. Consider shapes that will be easy to center on a pocket and sew on securely. Small protruding edges (like wing tips) that stick out can become very unappealing in a short amount of time on a uniform. Naturally, CAP tends to mimic USAF Disk and Shield style patches. Here are some sample templates that might be helpful...
The Air Force regulates the Disk-shape with tabs (#1-5) to Squadrons and Flights; while the Shield-shape with scroll (#8-10) is reserved for Groups, Wings and Major Commands. Civil Air Patrol has set no such shape precedence. Using a simple shape does not make the patch less expensive to manufacture than a complex shape.
---
Layout and Design
The main part of the patch is called the Field. The best emblems have fields that are kept simple, and not cluttered with many separate symbols and components. Directional elements and symbols on the patch should face to the wearer's right (Dexter side), be vertical (up and down), or cross diagonally at the center of the field. Text (letters and numbers) within the field should be little to none. The unit's designation or motto should be on scrolls (arcs or rockers) placed above or below the field.
Colors used in an emblem, of which there shouldn't be more than six, have a significance of their own. For example, all USAF emblems are required to incorporate two colors: ultramarine blue representing "the sky" - the primary theater of Air Force operations, and yellow representing "the sun" and the excellence required of Air Force personnel.
---
Manufacturing
Create both a full-color and line-drawing versions of the patch design [example]. Separate from the drawings, write down a simple description of the design's features and any special instructions or requests for the manufacturer's artists.
The patch can be embroidered onto twill cloth that matches the primary background color, or the patch can be fully embroidered all over with colored thread. A "cut edge" is when the patch is cut out from the backing material by following the design's flat-stitched border. A "merrowed edge" is when thread is bound around the shape's edge, front to back, serving as the design's outer border. Patches with a cut edge and partial embroidery have the lowest production cost, while merrowed edges are more durable and full embroidery looks the best.
---
Historical Preservation
One finished copy of every authorized Civil Air Patrol patch is required (CAPM39-1, Table 6-4, Note 2) to be forwarded on to National Headquarters for inclusion in the CAP Historical Archives.
I also would be VERY appreciative to receive a copy, and will reimburse any individual or unit that is able to send one my way. And don't forget to send the Heraldry of the patch and any other historical facts about it. All patches I receive will be displayed on this website and safely preserved for future generations of CAP members to view and enjoy!
Please e-mail me to help preserve CAP's uniform history!