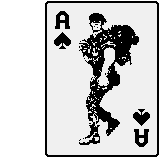 Ace Browning, Major
Historian
Civil Air Patrol
U.S. Air Force Auxiliary
alamrcn@hotmail.com
Copyright © 1996-2010
INCOUNTRY Productions
DISCLAIMER: This page was created and is maintained by a Civil Air Patrol member for informational and entertainment purposes only. It is NOT an endorsement by Civil Air Patrol of any service, program, object, product, or any other idea, nor does it necessarily reflect the official policy and opinions of the Civil Air Patrol, the United States Air Force, the United States Government, nor their respective officers or representatives. You actually read this crap?



WARNING: Fake CAP patches being sold on eBay! More
Welcome!

The images shown here are of actual patches preserved in my personal collection.
Other than being able to see the real things in person, this online Gallery is the best
way to view some of the most colorful parts of Civil Air Patrol's uniform history!
-Ace
- Clicking on a Gallery section below will open a new window in your browser -
?? Unknown Patches ??
Images of patches that have not been positively identified... Can you help?
Also here, patches that are mistakenly thought to have been used by Civil Air Patrol.




Counterfits and Reproduction CAP Patches on eBay


Fake Civil Air Patrol patches started being put up for sale on eBay in January 2010 by eBay user freedomfifty2k. While they are manufactured and distributed out of the Philippines, the seller who identifies himself as Robert "Bob" LaFond resides in either Canada or the United States.

Mr LaFond insists that he does not make the patches, but obtains them by buying collections while visiting places like Maryland. He says that because he can not know for certain the patches are reproductions, and because he also does not state them as being authentic or original in the auction descriptions, he can continue to sell them on eBay. My attempts to stop him through eBay's notification system were unsuccessful.

Most of the "Philippine fakes" sold on eBay are modern one-off replications of the original patches I've worked for two decades to preserve. Original patches that I've obtained directly from the CAP members who have worn them, and in many cases designed them. The counterfeit patches are generally manufactured using a poorer quality material than an original piece. In comparison with an authentic patch, there are always detail variations, color inconsistencies and size differences. There are also some consistencies between the fake patches, such as a matching loom technique or the backing material used. Most are partially embroidered, and all seem to have a cut (flat) edge. "Subdued" variations of full color patches, using mostly olive drab and black colors, are rampant on eBay as well.

Another eBay seller with the user name jockney09, also selling out of the Philippines, appeared about five months later. The patches from this seller are the same as those sold by freedomfifty2k, but any further relationship between the two is unknown. They both also sell fake Boy Scouts of America insignia, United States and foreign military patches, and other organizational insignia.

From my research, all of the CAP patches are replicated from images found over the Internet at various web sites - and particularly this one! That is why I have regretfully removed all of the full size images from the Patch Gallery. My apologies for having to go to this measure. Anyone who would like a full size image, please e-mail me and I will try to oblige as soon as possible.

IMPORTANT: If you do have possession of any "Philippine fakes", CAP Historians everywhere would very much appreciate that you clearly indicate them with the word REPRO written on the back of each piece using a Sharpie marker. This will guarantee that if your patches ever change ownership, they will be properly documented and not cause any confusion in the attempt to accurately record the history of Civil Air Patrol insignia.
-Ace

[ Top of Page ]